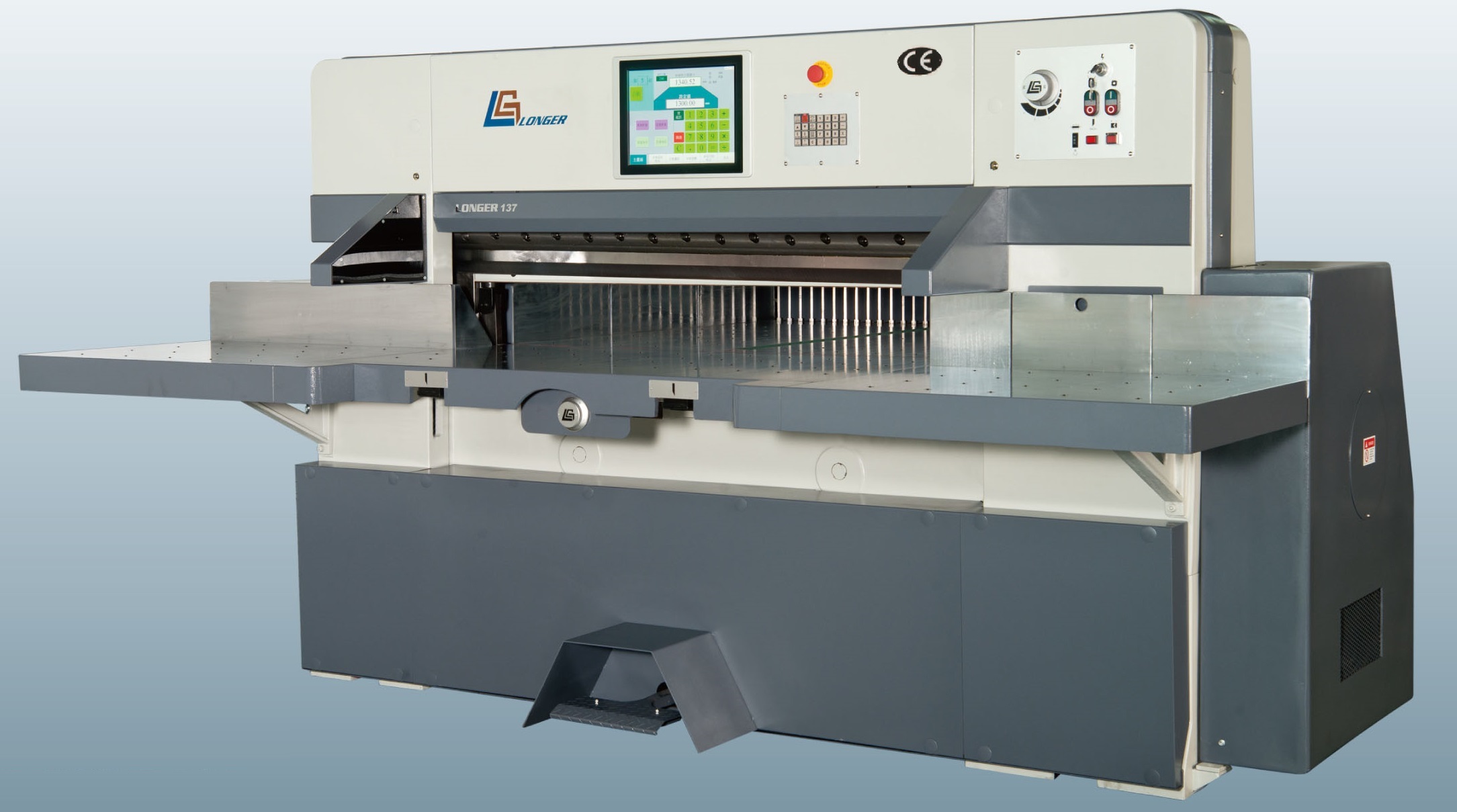 | | | |
| --- | --- | --- |
| | | |


10.4 inch touch screen as standard

Optional: 15 inch touch screen

-Ball-bearing Screw and Linear Rail for repeatability & accuracy
-Dual linear Rail as option

Device for Safety and easy Blade adjustment procedures

Hard Casting worm-gear assures quiet cutting

Electromagnetic hand wheel for fine tuning
Machine seat is constructed & combined by high strength casting operates stably & cuts exactly. Robust Construction ensures stable operation and exact cut off.
Inverter-controlled computer with 10.4 inch touch screen highly precision cut for 0.01m/m. 15 inch touch screen as option.
Colorful touch screen with 24,600 point memory allows for free size-setting to increase cutting capacity.
Hydraulic system is devised with double-pull type and two-step hydraulic device.
Operates by electro-magnetic clutch & brake.
Electromagnetic hand wheel fine tuning.
Single worm gear, Single-arm cutting design for speedy and quick cutting.
New cutting size can be added to memory without changing the entire program.
Complete safety and protection device for electrical appliances security to operate, no harm for the operator.
Suitable for cutting paper, card, board, rubber, cork, veneer, leather and plastic foils.


Specification
1150 (45")
1370 (53")
A
Cutting Thickness
mm/inch
160 (6.49")
160 (6.49")
B
Cutting Width
mm/inch
1150 (45.27")
1370 (53.93")
C
Cutting Length
mm/inch
1150 (45.27")
1370 (53.93")
D
Front Table Length
mm/inch
870 (34.25")
870 (34.25")
E
Table Height
mm/inch
900 (35.43")
900 (35.43")
F
Total Machine Length
mm/inch
2640 (103.93")
2830 (111.41")
G
Machine Width
mm/inch
2860 (112.59")
3065 (120.66")
H
Machine Height
mm/inch
1670 (65.74")
1670 (65.74")
Electrical Supply
As required
As required
Main Motor
KW(HP)
5.625(7 1/2)
5.625(7 1/2)
Paper Feeding Motor
KW(HP)
0.75(1)
0.75(1)
Air Table Motor*
KW(HP)
0.375(1/2)
0.75(1)
Net Weight
KG
3700
4200
*Technical data to change without notice