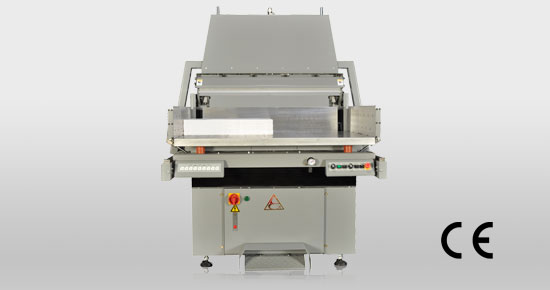 | | |
| --- | --- |
| | |

The precise alignment of the cutting reams improves the quality considerably.
Enables quality control
Increases the efficiency of the cutting machine by up to 40% because cutting can be continued while new material is prepared.
Blocks can be formed more easily from the layers owing to mechanized removal of air.
Four automatic table inclination angles on the right/left side just need one touch.

Specification
LG-J115A
LG-J145A
LG-J165A
Table size (Y)
[mm| in]
900 | 35.43
1,130 | 44.49
1,260 | 49.61
Table size (X)
[mm| in]
1,150 | 45.28
1,450 | 57.09
1,650 | 64.96
Width (B)
[mm| in]
1,550 | 61.02
1,850 | 72.83
2,080 | 81.89
Depth (A)
[mm| in]
1,290 | 50.79
1,570 | 61.81
2,180 | 85.83
Height
[mm| in]
1,875 | 73.82
1,875 | 73.82
1,700 | 66.93
Weight, net
[kg| Ibs]
560 | 1,232
730 | 1,609
1,200 | 2,640
Ream height min.
[mm| in]
30 | 1.18
30 | 1.18
30 | 1.18
Ream height max.
[mm| in]
165 | 6.50
165 | 6.50
165 | 6.50
Table height min.
[mm| in]
860 | 33.86
890 | 35.04
890 | 35.04
Table height max.
[mm| in]
950 | 37.40
980 | 38.58
980 | 38.58
*Technical data to change without notice